Silage cutter and recycling machine is a cutter machine with a big recycling box, which is professional to crush the corn stalk and recover it into the recycling box. Cut corn stalk can be stored as silage to feed animals. The machine is matched with tractor. This is a set of silage cutting, mincing, kneading, throwing, loading and other functions machine. It realizes completely off-line harvest operation, with no restriction of line, simple structure, reliable performance, good operation, easy maintenance and high efficiency. It is suitable for the harvest of silage or yellow silage, including corn stalk, sunflower, cotton stalk, sorghum and other high stalk crops in wax-ripening stage and full ripening stage. It's welcomed by many customers from Indonesia, Philippine, Singapore, Ecuador, etc..
We proovide different models with different cutting width, 1m, 1.3m, 1.5m, 1.65, 1.8m, 2m, 2.2m, 2.4m.
Parameter of 1.3m cutting width machine
Model
TZ-1300
Power
With recycling box
≥70hp
Without recycling box
≥40hp
Working efficiency
0.7-0.9 acre /h
Cutting width
1300mm
Quantity of blades
32 pcs
Size
1.3*1.65*1.1 m
Weight
1100kg
Horse power parameter of machines with fitted tractor
Cutting width
With Recycling basket or not
Horsepower of tractor
1m
Yes
≥60hp
No
≥35hp
1.3m
Yes
≥70hp
No
≥40hp
1.5m
Yes
≥75hp
No
≥50hp
1.65m
Yes
≥90hp
No
≥55hp
1.8m
Yes
≥100hp
No
≥60hp
2m
Yes
≥110hp
No
≥70hp
2.2m
No
≥75hp
2.4m
No
≥90hp
Structure introduction of silage harvester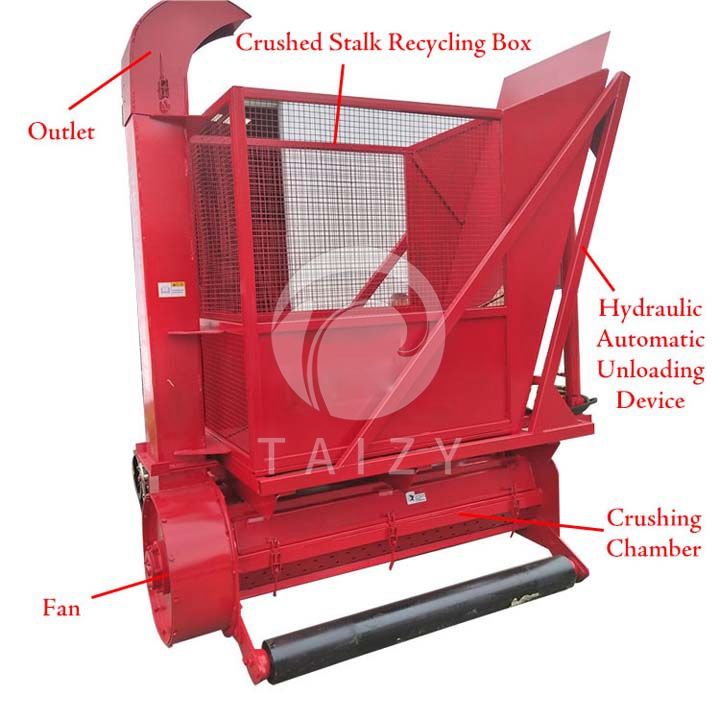 The machine is mainly composed of cutting and crushing chamber, crushed stalk recycling box, outlet, hydraulic automatic unloading device, and fan. It's matched with tractor with PTO (power take off) device.
Working principle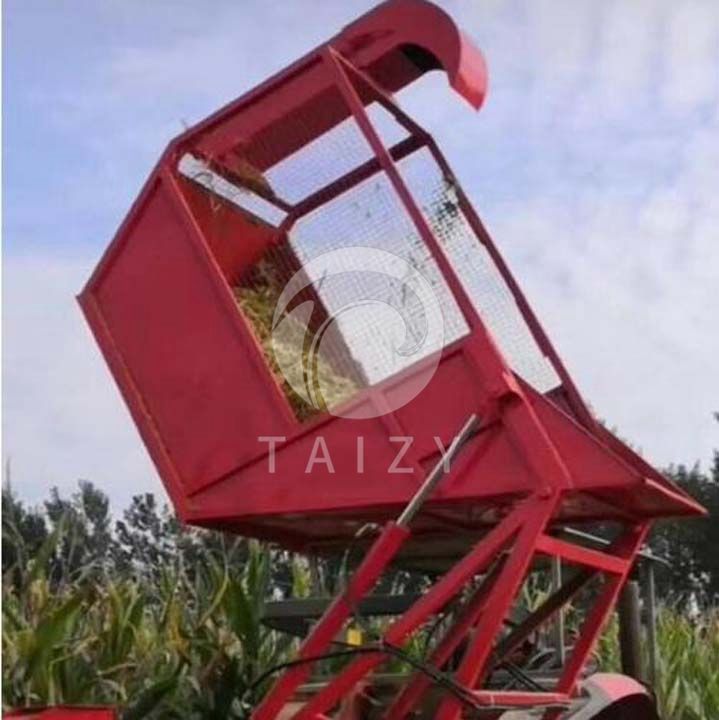 The tractor drags machine moving forward by PTO device, and crushing chamber crushes straw by 32pcs of blades at the bottom of the machine.
After being crushed, the straw is lifted by fan to the outlet of machine. The angle of outlet is able to be adjusted.
The crushed straw from the outlet is sprayed into the recycling box, or another recycling tractor.
The volume of the recycling bin is about 3 cubic meters. When it's fully loaded, the automatic hydraulic unload device will lift the recycling box up, and dump the crushed straw.
Operation introduction
When working, adjust the straw harvester to the height of 20-50cm from the ground (lifting position should not be too high, lest the angle of the universal joint is too large and cause damage).
Connect the power supply output shaft and rotate 1-2 times. After a few minutes, hang up the work gear and slowly release the clutch.
At the same time, gradually adjust the hydraulic lifting handle to the same specific height as the required grass height.
During operation, according to the density of planting grass and tractor horsepower, respectively determine the number of lines and machine speed, to ensure normal operation.
Always pay attention to observe whether the outlet of the straw channel is clear. If the outlet is not spraying straw outward, stop immediately and check if the fan is blocked.
When Straw harvester is turning, should be the first to lift it, rotation and then put it down. Silage harvester in the process of taking off and landing should be kept stable, do not reverse when working.
During operation, remove weeds and other obstacles. The ground shall be reserved for 3-5 meters of space for the use of the machine.
If abnormal noise is heard during the operation, please stop the operation immediately. After everything is normal, continue the operation.
In the process of use, should always check the belt tightness, so as not to reduce the speed of the knife shaft, affect the quality of the crushing effect and belt wear.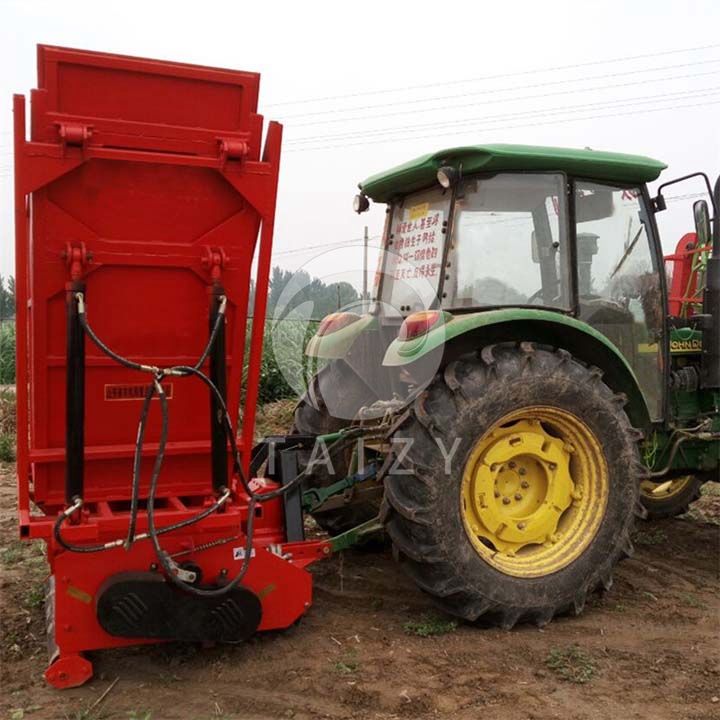 Advantages of stalk cutting and recycling machine
Multifunctional. One machine can set harvesting, crushing, recycling in one, save human labor to a great extent. The users can also choose to allow crushed straw return to the filed again, which will improve the fertility of the land.
Technical use of hydraulic lifting and unloading device, with high automation.
The variety of available raw materials is abundant, not only corn stalk, but also sorghum stalk, sunflower, cotton stalk, and many other high stalk crops.
There are 8 kinds of cutting width alternatively. Farmer can choose the right type according to the size of your cornfield and the horsepower of your tractor.
The angle of outlet is adjustable. The silage with high humidity, the weight of it is heavier, the density is larger, will easily cause the output pipe to clog. But you can adjust the angle of outlet to let the wet straw come out more smoothly.
32 pcs of blades will cut and crush stalk finely.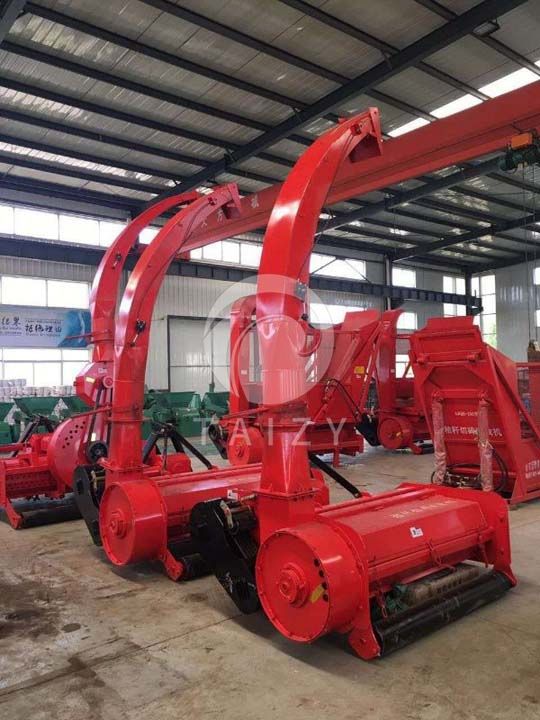 Successful case of silage harvester machine
In April this year, a customer from Ecuador sent inquiry to us about silage crusher and recycling machine, in May he placed order of 2 sets of 1.3m cutting width model. He bought these two, one for himself, one for his friend who also needed this machine. After receiving the item in July, he came to us again and ordered another 3 sets, all for his friends and clients. Because his local friends like and were satisfied with the effect of his machine and hoped to buy this machine from our company too. They appreciate us a lot for our enthusiastic service and the high quality of our machine.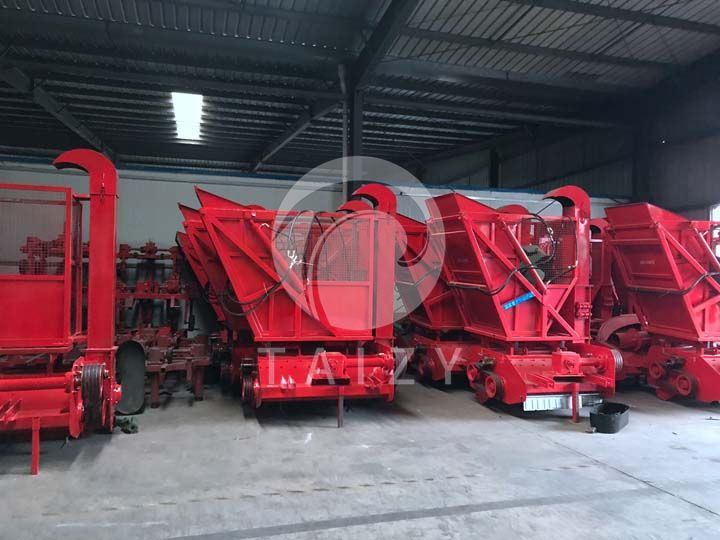 FAQ
1.What power of tractor do I need to drive this machine?
From 35HP-110HP, different cutting width matches different tractor. The one without recycling box usually needs smaller horse power than the one with recycling box.
2.Can I purchase the machine without recycling box?
Yes, you can. We can send you machine without recycling box, you can prepare another tractor to collect the crushed straw, or let the cut straw be squirted directly to filed.
3.What is the height of straw that this machine can handle?
30-220mm.
4.What is the volume of the recycling bin?
3cbm.
5.How long can I receive the item after paying?
We usually deliver the item within 3-5 days, the delivery time by sea or by air will depend on the shipping port of you.
6.What kind of payment terms do you provide?
Trade Assurance, T/T, Western Union, Money Gram, L/C, Pay Pal, Cash, etc..